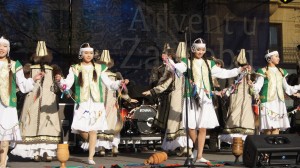 IFF "Zagreb folk fest" is traditional international folklore festival which is held in Zagreb – capitol of Croatia in winter or summer term for past few years. Organizer of the Festival is Cultural organization Croatia folk fest and realization is made by KULTUR-NIK tourist agency from Zagreb. This duo in the past few years launched several folk festivals on the Adriatic sea and inland.

The Festival programme takes place on open stages in the city center or concert halls around city.
So far the participants on the Festival were groups and ensembles from Slovakia, Czech Republic, Turkey, Russia, Ukraine, Greece, Bulgaria, Hungary, Slovenia, Poland, etc.